Dustin & Johannes, American Same-Sex Marriage, Belgium
I NOW PRONOUNCE YOU: HUSBAND AND HUSBAND
Just outside the quaint Belgian village of Pepinster, at the top of a hill in the Ardennes you'll find the beautiful Château Charles, the most gorgeous venue for your Summer wedding weekend! And yes, you read that correctly: a wedding weekend.
At the beginning of August – while our Dutch friends were celebrating Pride in Amsterdam – we were celebrating the love between Dustin and Johannes at, you guessed it, the picturesque Château Charles in Belgium. Talk about synchronicity! This wonderful Gay Wedding was such a celebration of these two men and their love for one another.
Dustin is from the United States of America and his family has Caribbean roots. He's a professor at a top notch university and researches Population Health. Johannes is originally from Germany but moved the U.S. some time ago. He has his own gallery where he exhibits fascinating works from emerging and mid-career international artists. Talk about a power couple!
These two lovely souls spend their days together in the city of all cities: New York.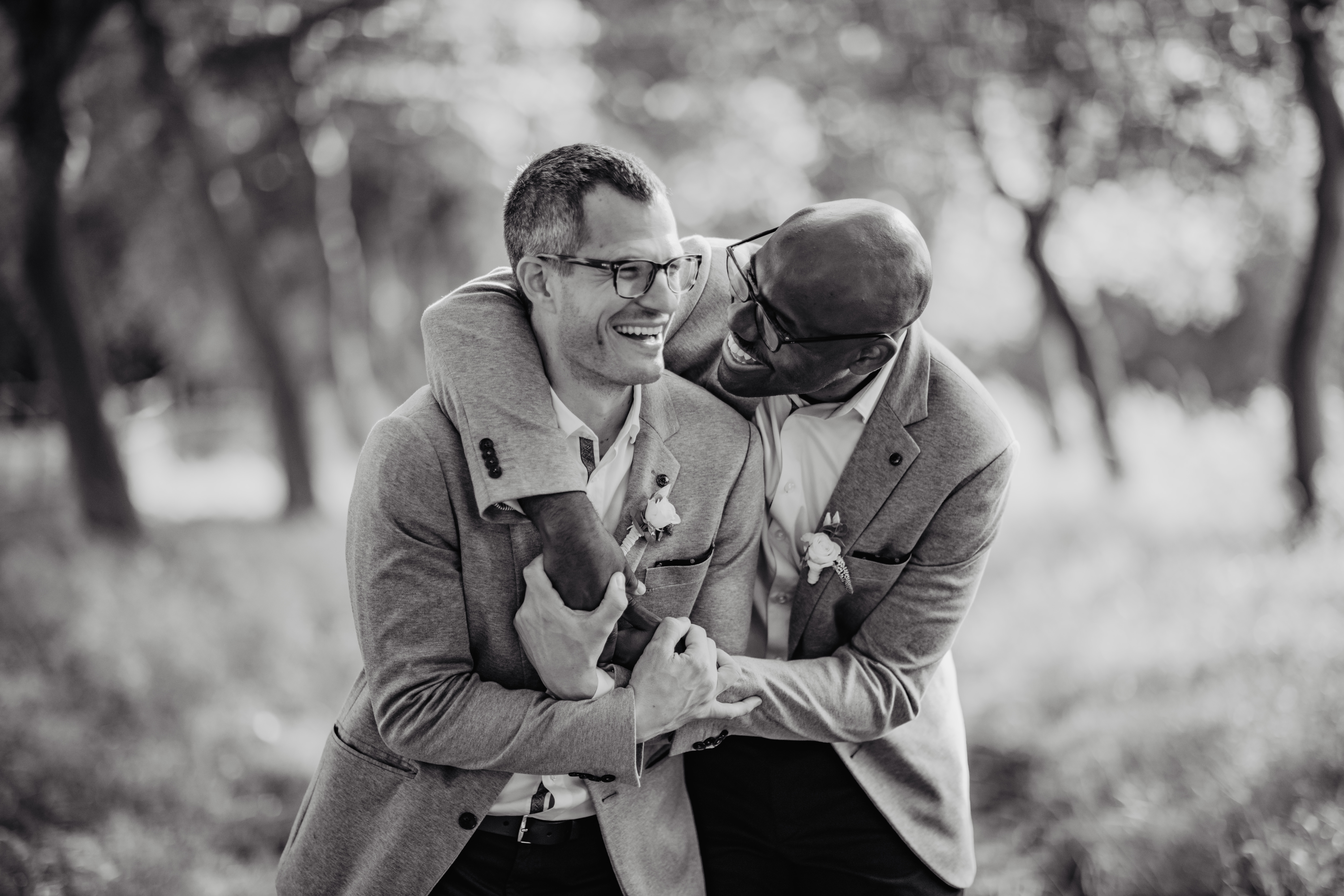 During this three day wedding celebration Dustin and Johannes welcomed friends and family from all over: the U.S., Germany, Italy and the U.K. On Friday we organized a little "Welcome to our Wedding Weekend" dinner party at which the happy couple got to welcome their guests, have a nice chat and toast to the day to come. The "big day" took place on Saturday and it was such perfection. Amidst the rolling hills of the Ardennes, overlooking a green valley with the picture perfect Château in the background, Dustin and Johannes exchanged their vows and said their "I do's".
The ceremony was heart-warming and there was so much joy, laughter and, of course, a few tears. Dustin took our breath away during his vows: "I talked to you before I knew you to tell you how my day was and I felt you coming closer to me. Especially the more that I talked to you". Our hearts! Such true and profound love!
The atmosphere was fun, informal and inviting, just overall relaxed, but "chique" nonetheless. Dustin was all about the "chiqueness", so we at Art2Arrange made sure that everything was as chique as could be, creating the ultimate combination of the perfect atmosphere and the perfect venue. Everything looked stylish and sleek and both grooms were so creative and wanted their weekend to be unique and fun. This was reflected in Dustin and Johannes' delightful toast after which they sabered the champagne bottle, so joyous! They also had an amazing party where friends and family danced the night away. The DJ was tasked with finding the right balance between 80s and 90s German hits and more Caribbean style dance songs, Hip Hop and R&B numbers. This mix of music ensured that everyone was out there on the dance floor having a grand time!
To top it all off, Dustin and Johannes enjoyed a delightful brunch with their guests on Sunday morning. What a weekend. What a celebration. We are overflowing with love and joy.