Emma & Auke, Stylish Summer Party Amsterdam, The Netherlands

Welcome to the Wedding of Emma & Auke, one of the greatest summer parties we have ever organized in Amsterdam.
Only 2,5 months before the big day, Emma & Auke approached us to help them plan their wedding. The message was clear: celebrate their love with all their loved ones at an informal but unforgettable summer party.
We were lucky that the owner of Strand Zuid (South Beach J) is one of their best friends, so it was easy to lock down this luxurious city-beach-wedding-venue in Amsterdam, where they serve great food and great cocktails. For the ceremony we choose to go for an intimate bohemian set up with warm colors. You could really feel the Indian Summer coming, and as you might have seen, weddings in 2019 were not complete without beautiful flower gardens for the aisle with pampas grass, and those particular ones were really stunning.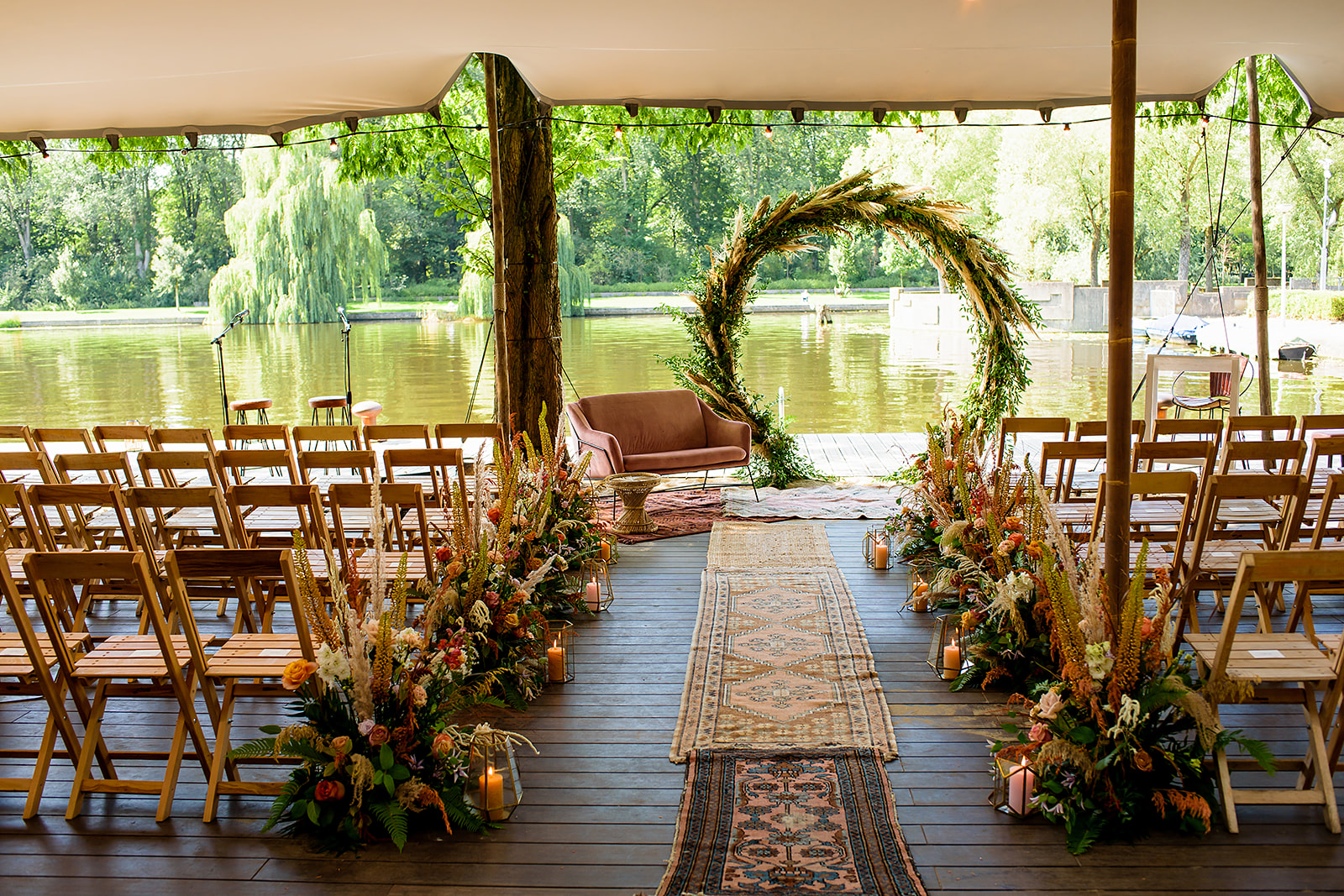 Music and entertainment was key during this wedding. From the lovely duo Aisha & Anthony during the ceremony, we have build it up to a big party at night. As huge fans of The Voice of Holland, Emma & Auke were delighted that Silver Metz, the winner of The Voice Kids 2019, song at their wedding toast. The toast was hosted by one of their best friends Gordon, a Dutch television presenter who made sure this moment was full of laughter and love.
After this the guests were treated with the best their hometown has to offer: a floating wedding reception at the Amsterdam Canals. The weather was beautiful, sunny with a blue sky, which made it perfect for sight seeing and champagne.
The walking dinner with food entertainment, nice cocktail bars and amazing entertainment took the meaning of "summer party" to a next level… Since Auke is a triathlete and has a healthy lifestyle, we also took care of a new trend, virgin drinks! We not only included 0% beers but served tasteful soda's, like ginger beer, rose lemonade and rhubarb juice and of course some pretty looking virgin cocktails, which was a hit.
With a line up of well known Dutch bands and singers, like Jenny Lena, De 3 J's and a fly board surprise act in the water, the party was one big happy celebration were everybody felt festive and relaxed.
We are so happy that Damon and his team captured those most important moments in the lives of Emma & Auke, and that we are able to share this love story with you…